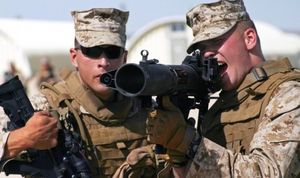 The United States military and foreign service are embroiled in yet another sex scandal as fresh revelations surface concerning the misconduct of a number of US military service members and an embassy staffer in Brazil.
The incident took in the capital Brasilia late last year, when three Marines on a US Embassy security team and one embassy staff member pushed a female escort out of a car after a dispute over payment. The woman broke her collarbone in the incident, the Associated Press reported.
"There were at least two women with the Marines outside a nightclub," a US defense official said on condition of anonymity.
The official added it appears that one of the women started a fight in a vehicle, then she was removed from the car, and when she tried to re-enter, she fell to the ground and was injured.
He also said that no charges were filed by Brazilian authorities.
Another defense official said the embassy staff member was a supervisor. The embassy tracked the woman down and paid for her medical expenses.