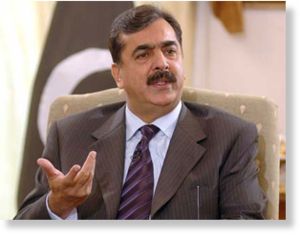 The Supreme Court convicted Pakistan's prime minister of contempt on Thursday but spared him a prison term for refusing to reopen a corruption case against his boss, the president, leaving the premier in power but facing fresh calls to resign.
The ruling against Prime Minister Yousuf Raza Gilani added to political uncertainty and tensions between the government and the court, effectively crippling an administration that has shown little will to tackle the economic and security challenges facing the country.
Thursday's hearing had been widely anticipated by opponents of Gilani and President Asif Ali Zardari, who were hoping the Supreme Court would sentence the prime minister to prison and order his immediate dismissal from office. That would have triggered a major political crisis, brought criticism on the court and could have benefited Gilani and Zardari electorally by making them martyrs in the eyes of their supporters.
Gilani is the longest-serving prime minister in the history of Pakistan, where civilian governments have repeatedly been toppled by the country's powerful military, often with the support of the Supreme Court, which critics allege is heavily politicized. Corruption charges have routinely been used to target those in power, or seeking to return.
Gilani's conviction in a court of law means there are now grounds to initiate dismissal proceedings, which involves the speaker of the parliament and the election commission. It could take up to four months and be fiercely contested every step of the way.