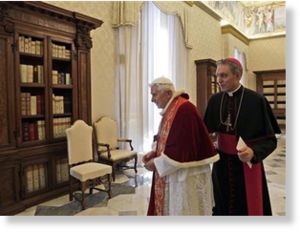 The conclave to choose Pope Benedict's successor could start earlier than expected, giving the Roman Catholic Church a new leader by mid March, the Vatican said on Saturday.
Less than two weeks away from a historic papal resignation, the Vatican also stressed again that the pope was not abandoning the Church in times of difficulties and urged the faithful to trust in God and in the next pope.
Five days after Benedict announced his resignation in Latin to a small group of cardinals, the Vatican was still in a state of spiritual and bureaucratic shock, groping for ways to deal with a situation without precedent for at least six centuries.
Some 117 cardinals under the age of 80 will be eligible to enter the secretive conclave to elect Benedict's successor. Church rules say the conclave has to start between 15-20 days after the papacy becomes vacant, which it will on February 28.
But since the Church is now dealing with an announced resignation and not a sudden death, Vatican spokesman Federico Lombardi said the Vatican would be "interpreting" the law to see if it could start earlier.
Cardinals around the world have already begun informal consultations by phone and email to construct a profile of the man they think would be best suited to lead the Church in a period of continuing crisis.