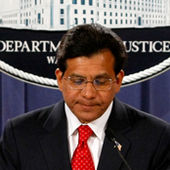 Spanish prosecutors will seek criminal charges against Alberto Gonzales and five high-ranking Bush administration officials for sanctioning torture at Guantánamo.
Spanish prosecutors have decided to press forward with a criminal investigation targeting former U.S. Attorney General Alberto Gonzales and five top associates over their role in the torture of five Spanish citizens held at Guantánamo, several reliable sources close to the investigation have told
The Daily Beast
. Their decision is expected to be announced on Tuesday before the Spanish central criminal court, the Audencia Nacional, in Madrid. But the decision is likely to raise concerns with the human-rights community on other points: They will seek to have the case referred to a different judge.