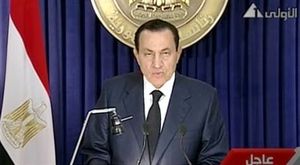 Embattled President Hosni Mubarak announced Tuesday that he would not run for another term in office, a concession that seemingly failed to appease many Egyptians who marched a million strong to demand that his 30-year-rule end immediately.
Mubarak said he would serve out the last months of his term, which expires in September, and "die on Egyptian soil." He promised not to seek re-election, but that did not calm public fury as clashes erupted between his opponents and supporters.
Many on the streets renewed their calls for the 82-year-old leader to quit now and make way for a transitional unity government. "We will not leave! He will leave!" some chanted in Cairo.
In Washington, President Barack Obama said he spoke with Mubarak after the speech, and the Egyptian leader "recognizes that the status quo is not sustainable and a change must take place."
"What is clear and what I indicated tonight to President Mubarak is my belief that an orderly transition must be meaningful, it must be peaceful and it must begin now," Obama said.