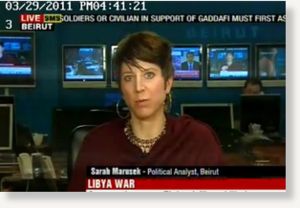 Israeli advocates in the US dictate to the American government which freedom movements in the world to support and which ones to ignore, says a political analyst.
"Israeli lobby in America is definitely talking to Washington and helping the decisions about which populations are worth of the international intervention and which ones are not and which ones they are going to ignore," Sarah Marusek made the comments in an interview with Press TV on Tuesday.
She reiterated that double standards can clearly be seen if one looks at the US position on Libya and compares it with what is going on in Bahrain and Yemen.
"It is absolutely ridiculous that this intervention can happen in Libya and at the same time not even a discussion happens about the ridiculous oppression that was happening and continues to happen in Bahrain as well as Yemen," said Marusek.