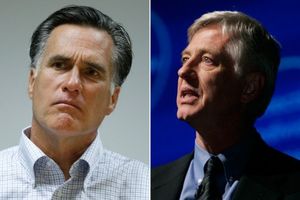 He once campaigned for Romney; now he calls him a "political prostitute." Former Salt Lake City Mayor Rocky Anderson tells McKay Coppins why he turned on the GOP frontrunner.
One evening, years before Rocky Anderson was elected mayor of Salt Lake City - where he would eventually make a name for himself as Utah's liberal lion - he was invited to a dinner party where he was told Mitt Romney would be attending.
"I had no idea who he was," Anderson recalls. "I had to Google him." The search results revealed an impressive resume, but little hope for sparkling dinner conversation: a mega-rich private-equity wizard who had tried (and failed) to run Ted Kennedy out of the Senate? Anderson expected a Republican stiff.
"So, I get up there and I'm greeted by this young, vivacious, friendly guy," Anderson says. "I'm looking around to find the stodgy person I thought I would meet, but no, that was Mitt. That's the kind of person he is..." he pauses briefly, and then adds, "Or at least was. Who knows now?"