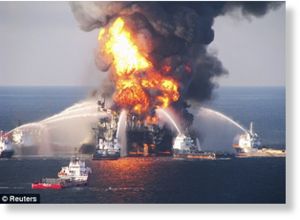 BP has agreed to a plead guilty to 14 criminal counts, including manslaughter, and will pay $4 billion over five years in a settlement with the Justice Department over the 2010 oil spill in the Gulf of Mexico, the company and Justice Department announced Thursday.
In addition, the London-based oil giant will pay $525 million over three years to settle claims with the Securities and Exchange Commission, which said the company concealed information from investors.
"This marks both the single largest criminal fine - more than $1.25 billion - and the single largest total criminal resolution... in the history of the United States," Attorney General Eric Holder said during a news conference in New Orleans. "I hope this sends a clear message to those who would engage in this wanton misconduct that there will be a penalty paid."
Holder also announced a separate 23-count criminal indictment - including charges of seaman's and involuntary manslaughter - against the two top-ranking BP supervisors on the Deepwater Horizon drilling rig where a blowout occurred April 20, 2010, sinking the rig and killing 11 workers.
Holder also announced an indictment against David Rainey, a BP vice president, for hiding information from Congress and lying to law enforcement officials about the rate at which oil was gushing into the Gulf of Mexico.