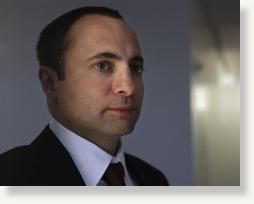 A wealthy Russian lawmaker has fled with his family to the United States, where he says he fears assassination over accusations that some of Russia's richest and most influential people swindled him in a real estate deal. Back home, he's been charged with financial crimes.
Ashot Egiazaryan (pronounced Ah-shawt Yeh-gee-ah-zar-ee-AHN) says he is considering seeking asylum in the U.S. But after suing a Russian billionaire and several former business partners -- including a close friend of Russian Prime Minister Vladimir Putin and Moscow's former mayor -- he said he doesn't feel safe even in this country.
"I do think it's possible than an assassination attempt can be mounted against me here," he said flanked by lawyers in a conference room a few blocks the White House. The interview with The Associated Press was his first with Western media and came a few weeks after one of his relatives was gunned down in the Russian city of Astrakhan on Dec. 7, an attack he claims is connected with his suit.