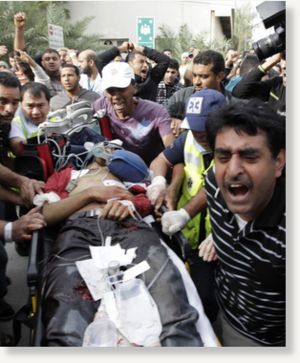 With unrest spreading across the
Arab
world from
Egypt
to other countries, protesters said at least two people were killed in a crackdown on demonstrations in Bahrain.
ABC News correspondent
Miguel Marquez
was caught in the crowd, and beaten by men with billy clubs in Bahrain's capital, Manama.
The country's main opposition group, Al Wefaq, said two men were killed in Pearl Square, in the center of Manama, when riot police used tear gas and rubber bullets early Thursday to break up the protests, according to the Associated Press. Hospitals across the city were on alert for more casualties.