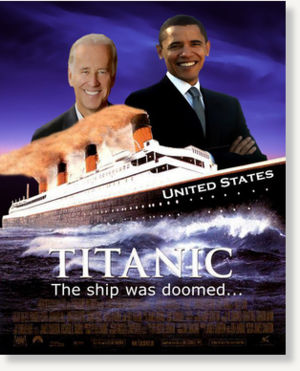 It's that time of year again - the President of the United States is taking an hour or so out of his evening to explain to the 15% of the American public who didn't change the channel that things aren't as bad as they seem. It's called the State of the Union Address - though this year it was introduced by ABC News as 'The State of OUR Union' - just keep spinning things, folks, play continuity, community and any faint whiff of ownership - perhaps one or two of those guys in Illinois won't change the channel.
The intro on CBS led in with the congressional shooting and how the congresswoman Gaby Giffords is recovering. It's always wise to lead in with emotion, it hooks people, before they can reach for the remote.
The Republicans and Democrats will be 'seated together' this year, as opposed to the customary seating which separates them 'across the aisle'. What does this mean? Nothing. Forcing children who dislike each other to sit together rarely accomplishes much. While waiting for the president to enter, the camera pans across all the congressmen standing and milling around and shaking hands with each other as if this is ground-breaking behavior - a background hum of casual chatting and friendly camaraderie ensues; dancing on the deck of the
Titanic
.
Quite a lot is made of this by the news commentators, as it is explained that Republicans and Democrats paired up with each other as 'dates' to sit together, mixed on both sides of 'the aisle'. The media refers to it as a 'prom' - they even speak of a 'prom queen and king', the "better looking members of the senate who paired up early". This is the country's Legislative Branch of government acting like, being treated like they are teenagers at a prom. While this is a classic marketing tactic to humanize and familiarize a loathed branch of government to the 'common man', who is mentally and emotionally 14 years old, all I can say is, please save us from marketers.