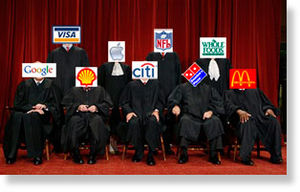 The peculiar evil of silencing the expression of an opinion is that it is robbing the human race; posterity as well as the existing generation; those who dissent from the opinion, still more than those who hold it. If the opinion is right, they are deprived of the opportunity of exchanging error for truth: if wrong, they lose, what is almost as great a benefit, the clearer perception and livelier impression of truth, produced by its collision with error.

- John Stuart Mill
In 2003, after my book
Unequal Protection
was first published, I gave a talk at one of the larger law schools in Vermont. Around 300 people showed up, mostly students, with a few dozen faculty and some local lawyers. I started by asking, "Please raise your hand if you know that in 1886, in the
Santa Clara County v. Southern Pacific Railroad
case, the Supreme Court ruled that corporations are persons and therefore entitled to rights under the Constitution and the Bill of Rights."
Almost everyone in the room raised their hand, and the few who didn't probably were new enough to the law that they hadn't gotten to study that case yet. Nobody questioned the basic premise of the statement.
And all of them were wrong.
We the People
are the first three words of the Preamble to the Constitution; and from its adoption until the Robber Baron Era in the late nineteenth century,
people
meant human beings. In the 1886
Santa Clara
case, however, the court reporter of the Supreme Court proclaimed in a "headnote" - a summary or statement added at the top of the court decision, which is separate from the decision and has no legal force whatsoever - that the word
person
in law and, particularly, in the Constitution, meant both humans
and
corporations.
Thus began in a big way (it actually started a half century earlier in a much smaller way with a case involving Dartmouth University) the corruption of American democracy and the shift, over the 125 years since then, to our modern corporate oligarchy.