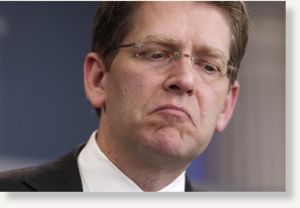 Killing Osama bin Laden was a big victory for the U.S., but how exactly the raid went down is another story - and another, and another.
Over two days, the White House has offered contradictory versions of events, including misidentifying which of bin Laden's sons was killed and wrongly saying bin Laden's wife died in gunfire, as it tries to sort through what the president's press secretary called the "fog of combat" and produce an accurate account.
Press Secretary Jay Carney said Tuesday that officials were trying to get information out as quickly as possible about the complex event witnessed by just a handful of people, and the story line was being corrected.
"We provided a great deal of information with great haste in order to inform you. ... And obviously some of the information was, came in piece by piece and is being reviewed and updated and elaborated on," Carney said.