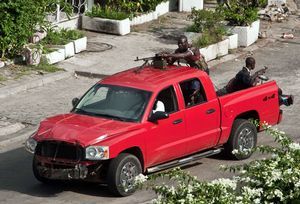 Fears were mounting of major atrocities in Ivory Coast last night as forces loyal to the Laurent Gbagbo prepared for a last stand in Abidjan.
After days of increasingly virulent anti-colonialist rhetoric from the state-controlled broadcasters, France deployed its troops to rescue French nationals from attack by young and violent supporters of Mr Gbagbo.
The news that the 1,000 strong French force had intervened underlined fears that the four-month crisis in the world's leading cocoa producer, sparked by the sitting president Mr Gbagbo's refusal to accept his defeat in landmark elections, had entered its critical phase.
Troops under the command of president-elect Allasane Ouattara were said to be "at the gates" of Abidjan, Ivory Coast's commercial capital, which has descended into chaotic violence in recent days. Supporters of the presidential rivals have carved up the city into warring neighbourhoods with armed militia controlling the streets. Witnesses spoke of people being pulled from cars and burnt alive and residents complained of being marooned in their homes by the fighting.