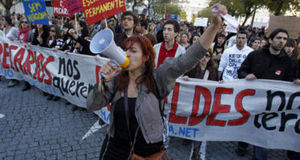 European Union finance ministers told Portugal it would have to implement tougher austerity measure than those proposed by its outgoing government if it hoped to secure a bailout.
The minister were meeting in Budapest on Friday to discuss the sovereign debt crisis that has haunted the bloc for over a year, with Portugal the main focus of their talks.
Debt-laden Portugal on Thursday became the third eurozone nation after Greece and Ireland to request financial help from the European Union and the International Monetary Fund after a spike in borrowing costs.
Jean-Claude Juncker, the head of the Eurogroup, said the finance ministers had instructed the EU, the IMF and Portugal's politicians to negotiate the country's bailout by mid-May for implementation after June 5 elections.
"The package must be really strict because otherwise it does not make any sense to guarantee anybody's loan," Finland's Finance Minister Hyrki Katainen said.