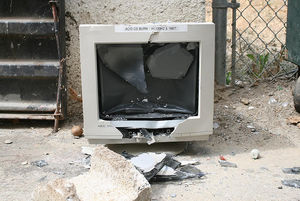 Time Warner, Verizon, AT&T, Comcast and Cablevision Systems all said Thursday that they were implementing a series of "best practices" recommendations that would see the connections of subscribers accused of copyright violations slowed down or even temporarily blocked if the alleged offenses continue.
The adoption of these policies, proposed by The Center for Copyright Information represents another brick in the entertainment industry's firewall against online piracy and a significant defeat for Internet freedom advocates.
Unlike European "three strikes" policies which sever a user's Internet connection after their third alleged copyright offense, U.S. providers will not permanently disconnect anyone. Instead, a series of "mitigation measures" will be implemented to repeatedly notify the user in the event of a copyright infringement allegation.
After three notifications via email, Internet service providers (ISPs) may begin to throttle a user's bandwidth, significantly slowing down their access speeds.