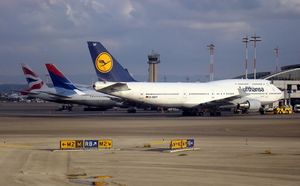 Israeli authorities deployed hundreds of police officers to arrest and deport pro-Palestinian visitors. The Minister of Tourism announced that "good tourists" will be greeted with flowers
Panic. There is no other way to describe the Israeli reaction to a plan organized by a few activists - no more than a thousand, according to the most generous estimates - to try and travel to the West Bank via Ben Gurion International Airport. A handful of those visitors arrived (five of them have already been deported), and it seems that the whole country has gone mad.
Haaretz
has reported a special deployment of hundreds of police officers and special units both inside and outside the terminals, "in case one of the arrivals tries to set himself on fire." The Petach Tikva court, in charge of the airport area, is to have more arrest judges on alert, and the minister for Hasbara (propaganda) Yuli Edelstein demanded that the government take no chances, "because we should remember what happened on 9/11."
All this, lets not forget, in order to welcome between a few dozen to a few hundred Westerners (most of them quite old, according to reports), who would arrive on separate flights and on different hours, who went through extensive security checks before boarding their planes, and who openly declared their intentions to visit the Palestinian territories. This is the national threat that has captured all the headlines for some days now in a country armed with one of the strongest armies in the world as well as an extensive arsenal of nuclear bombs.
While events at the airport are more absurd than tragic (there is a torrent of jokes on twitter about this, like: "attention all units, attention all units, a Swedish woman is now getting off flight 465″, or "security personnel have been ordered to report all those not singing 'Heve'nu Shalom' at landing"), one cannot watch the government's handling of this situation and not question the judgment of Israeli decision makers, or wonder about the things they are capable of doing if and when they sense a more substantial threat. One of the sole voices of reason was
Yedioth's
Eitan Haber, former secretary of Prime Minister Rabin, whose commentary today had the title: "We simply lost it" ("ירדנו מהפסים").