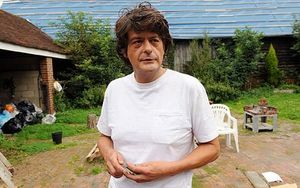 David Shayler, the transvestite former MI5 spy who believes he is a reincarnation of Jesus Christ, is facing forcible eviction from a 17th Century farmhouse he has been living in as a squat.
The one-time whistleblower, who uses the name Dolores Kane, has been living in the National Trust-owned Hackhurst Farm in Surrey as part of a small new age commune for the past six weeks.
But they are set to be removed after a judge agreed to a request for a possession order from the trust on Wednesday.
The 10-strong group, who have been occupying the house near the commuter village of Abinger Hammer in the North Downs since late June after being evicted from another empty farmhouse nearby, say
they will barricade themselves inside as part of a plan of passive resistance.
In a hearing lasting just four minutes at Guildford County Court Judge Robert Reid QC nodded his ascent to the application which was brought against persons unknown.