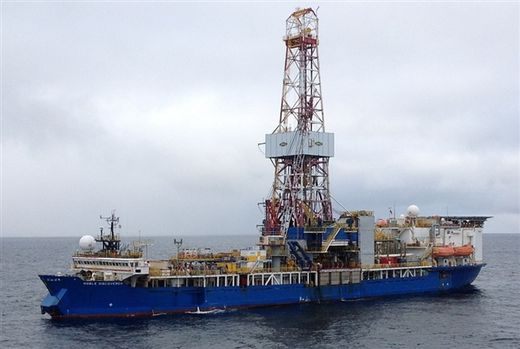 More than 20 years after the last drill bit went into the Chukchi Sea floor off northern Alaska, a Shell drilling rig on Sunday began work that the company hopes will lead to a bonanza that adds to its bottom line and extends Alaska's oil economy.
"Today marks the culmination of Shell's six-year
effort to explore for potentially significant oil and gas reserves
, which are believed to lie under Alaska's Outer Continental Shelf," Shell Alaska Vice President Pete Slaiby said in a statement.
Welcomed by the Obama administration, the exploration in Alaska's Arctic waters has become a major battleground for environmental groups, which fear oil spills in the pristine
area already threatened by warming temperatures and reduced sea ice
.
"The melting Arctic is a dire warning, not an invitation to make a quick buck," said Dan Howells, a campaign director for Greenpeace.
Shell has paid the U.S. $2.8 billion for lease rights to areas in the Chukchi and neighboring Beaufort Sea, and the U.S. estimates those waters hold 26 billion barrels of recoverable oil and 130 trillion cubic feet of natural gas.