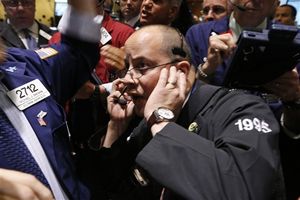 Stocks surged Friday as investors cheered an agreement by European leaders to stabilize the region's banks, a pact that helped remove some of the uncertainty that has been plaguing markets.
The broad rally saw the Dow Jones industrial average tack on 278 points and chalk up its best day since June 6.
Still, for the quarter the broader stock market ended lower, down 3.3 percent, marking the first down quarter for the benchmark S&P 500-stock index in the last three after inconclusive Greek elections and concerns about the solvency of Spanish banks roiled financial markets around the world.
The S&P 500 is up 8.3 percent since the start of 2012.
Crucially, euro-zone leaders agreed that countries would be able to recapitalize banks directly without increasing a country's budget deficit.