And among the most important items contained in [President George W] Bush's speeches since the events of the 11th [September 11, 2001] is that the Americans have no option but to continue the war. This tone is in fact an echoing of the words of neo-conservatives like [Vice President Dick] Cheney, [former defense secretary Donald] Rumsfeld and [former chairman of the Pentagon's Defense Policy Board] Richard Perle, the latter having said previously that the Americans have no choice in front of them other than to continue the war or face a holocaust.
- Osama bin Laden video, September 7.
PARIS - World public opinion has just been treated to the face-off of the year - as if orchestrated, with impeccable timing, in a John Woo movie.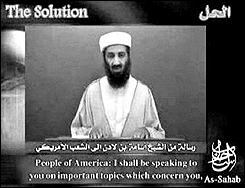 ©Asia Times