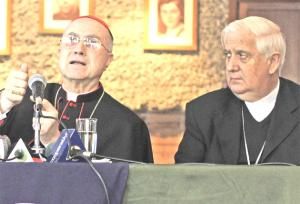 The paedophile priest scandal currently enveloping the Vatican has spread to one of the most Catholic areas of the world following a string of new abuse revelations throughout Latin America.
Reports of priests raping or abusing minors have now emerged in Brazil, Bolivia, Uruguay, Mexico and Chile causing growing anger in a continent that is home to nearly half the world's Catholics.
In Brazil an 83-year-old priest has been arrested after he was secretly filmed in bed with a 19-year-old altar boy. The footage was broadcast on national television networks prompting a police investigation which led to the arrest of Monsignor Luiz Marques Barbosa and two other priests in the north eastern state of Alagoas. They have since been accused of abusing boys as young as 12 and have been suspended by their diocesan bishop.
The Catholic Church in Chile confirmed this week that there have been 20 alleged or confirmed cases of child abuse by priests. At a press conference yesterday, Monsignor Alejandro Goic, the head of Chile's bishops' conference, apologised and vowed to crack down on any priests who had abused children.