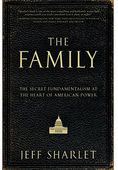 Six years ago journalist Jeff Sharlet went undercover in the underground evangelical organization known as the "The Family." The group consists of Congressmen, members of the executive branch and many other D.C. powerbrokers. Unlike Pat Robertson and other widely known Christian conservatives, the Family operates outside of the public eye - but that by no means limits their influence or power. Sharlet's book
The Family: The Secret Fundamentalism at the Heart of American Power
exposes the real people behind the growing evangelical movement in America.
Can you tell me how you got the idea for the book?
I was working on my first book,
Killing the Buddha
. A co-author and I were traveling around the country visiting unusual religious communities, and a friend was concerned that her brother had gotten involved in a cult. He got involved in this group called "The Family," which is not exactly a cult - it's much bigger and much more powerful, but in the short term all I knew is that this guy was involved in it and he said it was really much different from anything that I'd ever seen, and that I should go check it out for myself. That indication was crucial because you don't get in without getting invited.