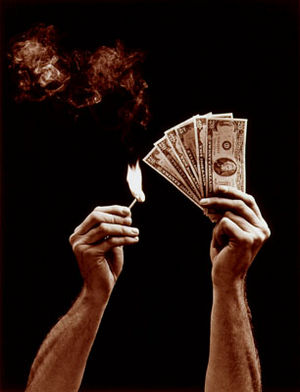 The last week in March started with the coordinated call from Russia and China for a new non-national reserve currency, an idea that was greeted as one would expect with some derision until US Treasury Secretary Timothy Geithner
said he supported
such an idea. We can only speculate that he forgot his role in this Act 2 of the international stage tragedy "Global Financial Crisis" and used his lines from Act 4 which has of course yet to come. In this Act the role of the US is to resist such calls.
The week ended with the G20 summit and more importantly with the
G20 final communique
which promises a dark future; for wrapped in the cloth of "free trade", a trillion dollars for the IMF and "trade finance" and the regulation of banker's pay is the
formation of a global overseer,
the Financial Stability Board
and the announcement that "the era of banking secrecy (which means privacy) is over."
There is a great deal in the G20 final communique and what with the general goings on this coming week with the NATO summit following the G20 and US President Obama's visit to Ankara that we will be providing an analysis of the G20 summit and its context during the course of next week.
This week we take a closer look at who really benefited from the AIG bailout and the true size of the US governments financial commitments to the "Global Financial Crisis". With apologies to
Winston Churchill
and the fighter pilots of the Battle of Britain:-
Never in the field of human history has so much been taken from so many by so few