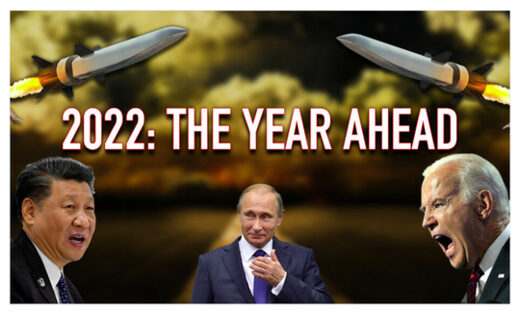 I'm sure I don't need to tell you that there are many ways that the current global crisis could play out in 2022 and, sadly, none of them involve everyone joining hands and singing "Kumbaya" until the Gateses and the Schwabs of the world have a change of heart about this whole Great Reset thing.
If you saw
New World Next Year 2022
, you'll know that I think a
cyber 9/11 (and the ensuing passage of an iPatriot Act) is a distinct possibility for the coming year.
But that is not the only Ace card in the would-be world controllers' hands.
A "
pandemic of the injected
" and/or a
5G-generated
global health crisis?
The passage of a
global pandemic treaty
to hardwire the biosecurity state into place?
A
bioterror false flag
?
Check. Check. Check. All of these cards, too, are in the deck and ready to be dealt. But there is
another
card in that deck that has been largely neglected for the past two years and I have a feeling we're going to see it laid on the table this year.
So what am I talking about? Luckily, I don't need to look further than the latest headlines to illustrate my point:
Right on the heels of the
Kazakhstan fiasco
, we have this headline dominating the newswires: "
White House: Russia prepping pretext for Ukraine invasion
." As the loyal government stenographers over at the Associated Press helpfully explain:
US intelligence officials have determined a Russian effort is underway to create a pretext for its troops to further invade Ukraine, and Moscow has already prepositioned operatives to conduct 'a false-flag operation' in eastern Ukraine, according to the White House.
Wait, what?
The White House is now openly warning about the potential for a false flag operation to be used as a pretext for war?
What's happening here?
The invocation of the concept of false flag terror in a mainstream media report (let alone such an assertion coming from the lips of "intelligence officials") might raise an eyebrow among us old hands of the 9/11 Truth movement. I'm sure we all remember the days when the very concept of false flag terror had to be painstakingly explained to the average normie . . . so it could then be summarily dismissed as a "conspiracy theory."
But upon closer examination, this acknowledgment of the reality that false flag attacks can be used as a casus belli is not so surprising. In fact, the most vocal conspiracy deniers are only too happy to become conspiracy theorists themselves when discussing their political enemies (like
Putin
or
Assad
or
Putin
or
Xi
or "
anti-vaxxers
" or
Putin
).