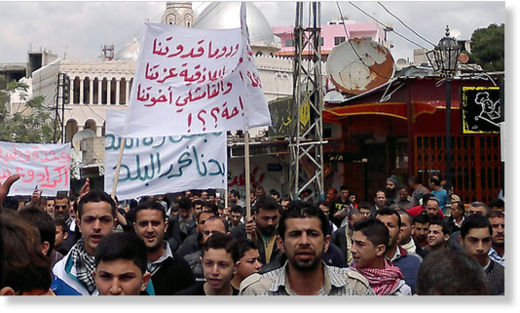 Security forces in Syria met thousands of demonstrators with fusillades of live ammunition after noon prayers on Friday,
killing at least 73 people in the bloodiest day of the five-week-old Syrian uprising
, according to protesters, witnesses and accounts on social networking sites.
From the Mediterranean coast and Kurdish east to the steppe of the Houran in southern Syria, protesters gathered in at least 20 towns and cities, including the outskirts of the capital, Damascus.
The breadth of the protests - and people's willingness to defy security forces who deployed en masse - painted a tableau of turmoil in one of the Arab world's most repressive countries. In scenes unprecedented only weeks ago, protesters tore down pictures of President Bashar al-Assad and toppled statues of his father, Hafez, in two towns on the capital's outskirts, according to witnesses and video footage.
But despite the bloodshed, which promised to unleash another day of unrest as the dead are buried on Saturday, the momentum of the protests seemed to fall short of the popular upheaval that revolutions in Egypt and Tunisia represented. Organizers said the movement was yet in its infancy, and the government, building on 40 years of institutional inertia, still commanded the loyalty of the military, the economic elite and sizable minorities of Christian and heterodox Muslim sects who fear the state's collapse.