Libya declared an immediate cease-fire and promised to stop military operations today in a bid to fend off international military intervention after the UN authorised a no-fly zone and "all necessary measures" to prevent the regime from striking its own people.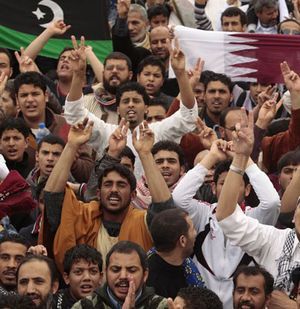 The announcement by Foreign Minister Moussa Koussa followed a fierce attack by Gaddafi's forces against Misrata, the last rebel-held city in the western half of the country. A doctor said at least six people were killed.
The UN Security Council resolution, which was passed late Thursday after weeks of deliberation, set the stage for airstrikes, a no-fly zone and other military measures short of a ground invasion. Britain announced that it would send fighter jets and France was making plans to deploy planes, but the US had yet to announce what its role would be. Nato also held an emergency meeting.
With the international community mobilizing, Koussa said the government would cease fire in line with the resolution, although he criticised the authorisation of international military action, calling it a violation of Libya's sovereignty.