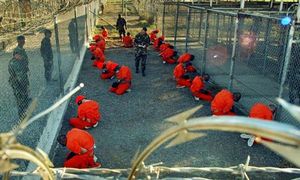 1. "Asymmetrical Warfare"
When President Barack Obama took office last year, he promised to "restore the standards of due process and the core constitutional values that have made this country great." Toward that end, the president issued an executive order declaring that the extra-constitutional prison camp at Guantánamo "shall be closed as soon as practicable, and no later than one year from the date of this order." Obama has failed to fulfill his promise. Some prisoners are being charged with crimes, others released, but the date for closing the camp seems to recede steadily into the future. Furthermore, new evidence now emerging may entangle Obama's young administration with crimes that occurred during the Bush presidency, evidence that suggests the current administration failed to investigate seriously - and may even have continued - a cover-up of the possible homicides of three prisoners at Guantánamo in 2006.
Late in the evening on June 9 that year, three prisoners at Guantánamo died suddenly and violently. Salah Ahmed Al-Salami, from Yemen, was thirty-seven. Mani Shaman Al-Utaybi, from Saudi Arabia, was thirty. Yasser Talal Al-Zahrani, also from Saudi Arabia, was twenty-two, and had been imprisoned at Guantánamo since he was captured at the age of seventeen. None of the men had been charged with a crime, though all three had been engaged in hunger strikes to protest the conditions of their imprisonment. They were being held in a cell block, known as Alpha Block, reserved for particularly troublesome or high-value prisoners.
As news of the deaths emerged the following day, the camp quickly went into lockdown. The authorities ordered nearly all the reporters at Guantánamo to leave and those en route to turn back. The commander at Guantánamo, Rear Admiral Harry Harris, then declared the deaths "suicides." In an unusual move, he also used the announcement to attack the dead men. "I believe this was not an act of desperation," he said, "but an act of asymmetrical warfare waged against us." Reporters accepted the official account, and even lawyers for the prisoners appeared to believe that they had killed themselves. Only the prisoners' families in Saudi Arabia and Yemen rejected the notion.