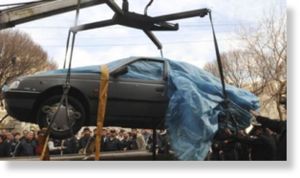 The Azerbaijani government has reportedly aided a terrorist element, involved in the killing of Iranian nuclear scientists, who belongs to the Israeli spy agency of Mossad.
According to the report, the Jewish man who worked as a Mossad agent in Baku using the assumed name Javidan had a major role in the assassination of Iranian nuclear experts Mostafa Ahmadi Roshan and Massoud Ali-Mohammadi.
Ahmadi Roshan was killed in January after a motorcyclist attached a magnetic bomb to his car in Tehran. He served as the deputy director of marketing at the Natanz nuclear facility.
According to the report, Azeri secret service helped Mossad agents in terrorist attacks against Iranians by providing technical and logistical support.