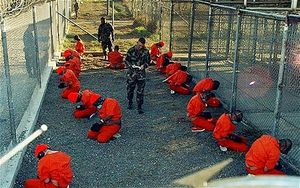 Guantanamo Bay, Cuba -- The five men accused of plotting the Sept. 11 attacks used their weekend war court appearances to stage "peaceful resistance to an unjust system" being used for political reasons, defense lawyers said Sunday - a day after the 9/11accused turned the judge's plans to hold a simple arraignment into a 13-hour marathon of prayer and protest.
"The system is a rigged game to prevent us from doing our jobs," argued criminal defense attorney David Nevin, accusing the prison camp commander of making it impossible to learn from alleged mastermind Khalid Sheik Mohammed how the CIA waterboarded him 183 times and used other since-outlawed techniques to break him.
Mohammed, his nephew and three other men allegedly trained, advised and financed the 19 hijackers who crashed airliners into the World Trade Center, Pentagon and a Pennsylvania field, killing 2,976 people. All could get the death penalty, if convicted.