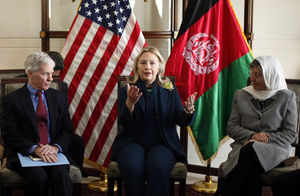 Kabul - The United States has for several years been secretly releasing high-level detainees from a military prison in Afghanistan as part of negotiations with insurgent groups, a bold effort to quell violence but one that U.S. officials acknowledge poses substantial risks.
As the United States has unsuccessfully pursued a peace deal with the Taliban, the "strategic release" program has quietly served as a live diplomatic channel, allowing American officials to use prisoners as bargaining chips in restive provinces where military power has reached its limits.
But the releases are an inherent gamble:
The freed detainees are often notorious fighters who would not be released under the traditional legal system for military prisoners in Afghanistan.
They must promise to give up violence - and U.S. officials warn them that if they are caught attacking American troops, they will be detained once again.