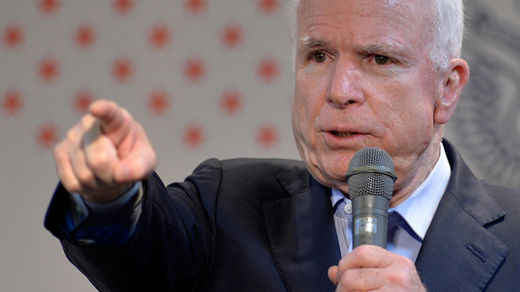 Sen. John McCain on Thursday announced that he no longer trusts President Obama's word on Syria, and believes that military intervention in the war-torn country could be launched quickly and "easily".
The Arizona Republican told CNN's Kate Boulduan that the US military could destroy Syrian President Bashar Assad's runways and aircraft
within "a couple of days", quickly arm rebels and establish a no-fly zone easily.
"There would be no boots on the ground," he said. "We would use standoff weapons just as the Israelis have four times as they've taken out targets inside Syria.
We would not put a single life at risk.
"
McCain, a ranking member of the Armed Services Committee, said the president's failure to take action in response to the violent turbulence in Egypt shows that the US has no policies or strategies that can be trusted.
"There is no policy. And there is no strategy. And therefore we react and we react poorly," he said. "One of the best examples is Syria where the president said Bashar al-Assad uses chemical weapons, that's a red line. He's used them and we have done virtually nothing in response to that."