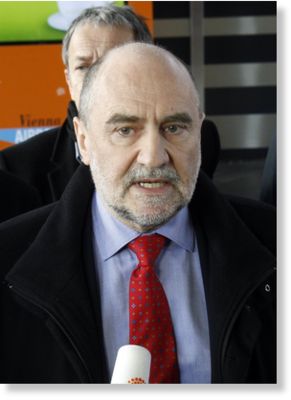 Russia said Wednesday the world should not draw "hasty conclusions" over Iran's most recent rebuff of U.N. attempts to investigate allegations the Islamic Republic hid secret work on atomic arms, but the U.S. and its allies accused Tehran of nuclear defiance.
Under international pressure to show restraint, Israel, which has warned repeatedly that it may strike Iran's nuclear facilities, pointedly urged major world powers to mind their own business, saying it alone would decide what to do to protect the Jewish state's security.
France said Iran's continued stonewalling of the International Atomic Energy Agency "is contrary to the intentions" expressed by Tehran in its recent offer to restart talks over its nuclear activities.
In Washington, White House spokesman Jay Carney said while world powers have not yet reached a decision on those talks, Iran's refusal to cooperate with the investigation "suggests that they have not changed their behavior when it comes to abiding by their international obligations."
The IAEA's acknowledgment of renewed failure came early Wednesday at the conclusion of the second trip in less then a month aimed at investigating suspicions of covert Iranian nuclear weapons work.
The IAEA team had hoped to speak with key Iranian scientists suspected of working on the alleged weapons program, break down opposition to their plans to inspect documents related to nuclear work and secure commitments from Iranian authorities to allow future visits.