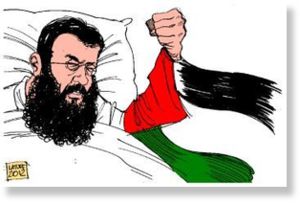 The human rights victory draws sharp attention to Israel's politics.
International media attention over the hunger strike of a Palestinian father named Khader Adnan, has opened the world's eyes once again to the Jewish state's unbalanced sense of political justice.
After refusing food for more than 66 days, Mr. Adnan's attorneys finally reached an agreement with the Israeli government, and unless these officials have any other tricks up their sleeves, he will be released on 17 April, which ironically, is 'Prisoner's Day' in Palestine; all the while never having been charged.
The incredible image below that was posted on Twitter, expresses in visual terms, the story of dedicated, political hunger. This is not the 'power-hungry' political aspiration we know so well in America, but a political act where the desire to refrain from eating itself... is what becomes insatiable. This act of sacrifice, almost always conducted behind bars, has moved mountains, ending suffering and strife on a wide scale. Starvation for the benefit of others is the act of Khader Adnan.
How does it feel to live in a country that supports rules in another country, that Hitler would be proud of? What country you say...? Sadly, the answer is Israel.