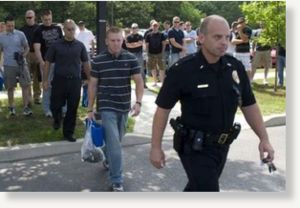 Dozens of city mayors are meeting in Washington to request President Barack Obama and the federal government to rescue them from imminent financial disaster.
The nearly two hundred mayors will meet on Friday to discuss budget cuts to cities already struggling with the recent economic recession.
Financial distress in US municipalities has been unfolding in the form of lay-offs of public workers, cuts to public education and the reduction of city services.
"Every city in the United States is faced with an economic collapse, the collapse of its economic base which is causing its revenues to fall off," said Carl Osgood from the Executive Intelligence Review in an interview with Press TV.
"The need to spend is more than what they [cities] are getting in revenue. So mayors, city managers and city councilors are responding by cutting essential services," he added.