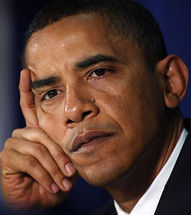 WASHINGTON - Conservative senators vowed Monday to strip President Barack Obama of his power to regulate greenhouse gases, in a move that would cripple US efforts on climate change if successful.
Eleven Republican senators introduced a bill that would stop the Environmental Protection Agency from regulating greenhouse gases, which scientists blame for global warming, without explicit approval by Congress.
Under Obama, the federal agency has steadily increased standards on gas emissions. The Republicans accused Obama of circumventing Congress, where a so-called "cap-and-trade" bill to mandate emission curbs died last year.
"My bill will shrink Washington's job-crushing agenda and grow America's economy," said Senator John Barrasso, a Republican from Wyoming and skeptic of climate change who is leading the effort.