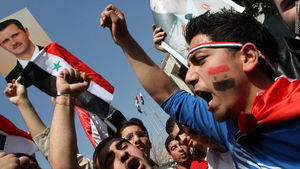 I
srael is the "ultimate outside power" that is behind the Syrian crisis and foreign countries' pushes to topple Syrian President Bashar al-Assad's government, says an analyst.
The assertion comes as the foreign ministers of Russia, China, Britain, France, Turkey, Qatar, Kuwait, and Iraq, as well as the UN Secretary-General, Ban Ki-moon, the Arab League Secretary-General, Nabil El-Araby, and the secretary of state of the United States attended a meeting on the situation in Syria at the United Nations office in Geneva on Saturday.
Press TV has conducted an interview with political commentator Mark Dankof to further discuss the issue.
The video also offers the opinions of an additional guest: Lawrence Freeman of US weekly newsmagazine
Executive Intelligence Review
.
What follows is an approximate transcription of the interview: