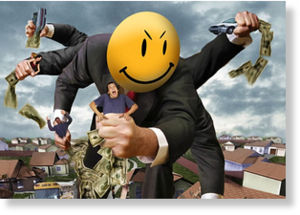 Walmart's explosive growth has gutted two key pillars of the American middle class: small businesses and well-paid manufacturing jobs
Sam Walton opened the first Walmart store in Rogers, Arkansas, 50 years ago this month. Sprawled along a major thoroughfare outside the city's downtown, that inaugural store embodied many of the hallmarks that have since come to define the Walmart way of doing business. Walton scoured the country for the cheapest merchandise and deftly exploited a loophole in federal law to pay his mostly female workforce less than minimum wage.
That relentless focus on squeezing workers and suppliers for every advantage has paid off since July 1962. Walmart is now the second-largest corporation on the planet. It took in almost half-a-trillion dollars last year at more than
10,000 stores worldwide
.
Walmart now captures one of every four dollars Americans spend on groceries. Its stores are so plentiful that it's easy to imagine that the retailer has long since reached the upper limit of its growth potential. It hasn't. Walmart has opened over 1,100 new supercenters since 2005 and expanded its U.S. sales by 35 percent. It aims to keep on growing that fast. With an eye to infiltrating urban areas, Walmart recently introduced smaller "neighborhood markets" and "express" stores.