Zahedan, Iran - An Iranian Sunni rebel said on Tuesday the United States had a supporting role in launching terror plots inside Iran.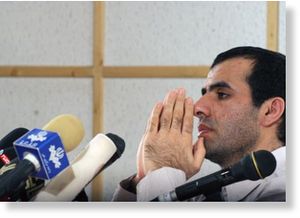 "After meeting with the U.S. officials in the U.S. embassy in Pakistan four years ago, they (the U.S. officials) promised to help us with everything we needed
," Abdolhamid Rigi, the brother of insurgent Jundallah leader Abdolmalek Rigi, told reporters.
"We were deceived by them (the U.S. officials)..
.We received monetary and armed supports from the United States...We received orders from them" to carry out the terrors inside Iran
, Abdolhamid Rigi said.
On Tuesday, Iran's government organized a media tour to Zahedan, the capital city of Iran's southeastern province of Sistan-Balouchestan, where the media attended a confession program of Abdolhamid Rigi.