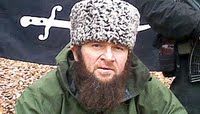 While Russian investigators
claim
to have found new leads in their search for the "terrorists" who killed at least 26 people traveling on the
Nevsky Express
between Moscow and St. Petersburg, the "Caucasian Mujahadeen," under the orders of its leader, Doku Umarov, have claimed responsibility for the November 27 bombing.
Intriguingly, the Kremlin's top banker, Boris Yevstratikov, was killed in the blast and derailment.
On Monday Prime Minister Vladimir Putin linked the
Nevsky Express
bombing with an explosion that occurred that day on a railway line in the internal Russian republic of Dagestan. The Tyumen-Baku line connects southern Russia with the "former" Soviet republic of Azerbaijan. Russia's KGB-communist dictator called the Dagestan bombing a "second terror attempt." No one aboard the second train was hurt and the locomotive sustained only superficial damage from the blast. After Monday's attack, the Kremlin-run rail monopoly, Russian Railways,
stated
: "Traffic on the railway is closed. Employees of Russian Railways, law enforcement bodies, the FSB [Federal Security Service] and emergency services are working at the scene.'"