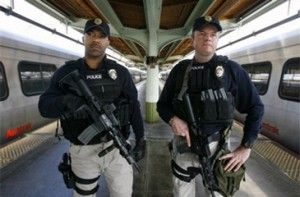 According to
Homeland Security Today
, the Department of Homeland Security (DHS) has forged "a new partnership" with "the Department of Transportation (DOT) and Amtrak to battle the trafficking of humans."
DHS will train "over 8,000 frontline transportation employees and Amtrak Police Department officers" on how to recognize and report trafficking indicators and suspected traffickers. Those frontline employees include anyone who comes into regular contact with the public, including ticket sellers. If
Wikipedia
can be trusted, there are currently about 450 Amtrak police who handle law enforcement and security for the government-owned passenger train system.
Soon, over 8,000 Amtrak employees will overtly or covertly examine passengers for the validity of their identification, their level of stress, how they interact, and their conversations. It is so necessary to treat Amtrak customers as criminal suspects because, according to HS Today, an "estimated 100,000 children are trafficked in the sex trade in the United States each year," with the average age being 11 to 14, and some being as young as 9. This means that passengers - and especially men - traveling with children will be subject to enhanced scrutiny. Perhaps the trained employees will engage children in conversation or demand a statement of their relationship status with the accompanying adults.