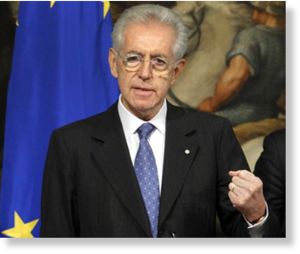 Rome - Italy passed an anti-corruption law on Tuesday, the latest move by the government of Prime Minister Mario Monti to shed the country's image tarnished by former leader Silvio Berlusconi.
Monti, who took office last November to replace the scandal-plagued Berlusconi, made approval of the law a confidence motion in his administration in order to speed its passage through both houses of parliament.
The new law increases prison sentences for public officials convicted of demanding bribes, abuse of office or influence peddling. It also increases penalties for corruption in the private sector.
The law bans those who have been definitively convicted of corruption from running for public office and obliges local and regional administrations to institute an anti-corruption plan and renew it every year.
It guarantees anonymity for whistle blowers and obliges local administrations to post their budgets and the cost of public works on their internet sites.
The law, which has been kicking around parliament for more than a year, became definitive when the lower house passed the provision with a vote of 460 for and 76 against.