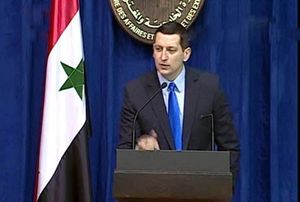 Spokesman for the Syrian Foreign Affairs and Expatriates Ministry, Jihad Makdissi, has categorically denied responsibility of the Syrian forces for the massacre that took place in al-Houla area in Homs Province.
In a press conference on Sunday, Makdissi condemned in strongest terms this terrorist massacre against the Syrian civilians as he condemned accusing the Syrian forces of doing that.
Makdissi stressed that no tanks or artillery entered al-Houla town, adding that
hundreds of gunmen, armed with various kinds of heavy weapons, attacked al-Houla area in Homs countryside after they assembled in various areas in a deliberate and planned manner, indicating that "The law-enforcement members never left their positions and were in a state of self-defense."
Makdissi said that Syria also condemns the
''tsunami'' of lies against the Syrian government
in the past couple of days and the ease in leveling accusations against the Syrian government by some foreign ministers and media.
''We've talked to the Defense Ministry, the Interior Ministry and the authorities concerned to put us in the picture of what happened in Houla,'' said Makdissi.