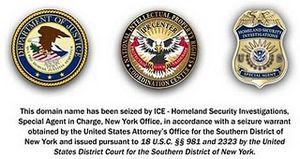 Apparently the Department of Homeland Security is now authorized to rewrite and enforce copyright infringement laws. In a stunning precedent, the recent round of
domain seizures
to shut down websites that allowed illegal streaming of the Super Bowl also included a few other websites that were seized simply for linking to infringing content.
Mike Masnick of TechDirt, who received and published a DHS seizure affidavit, had this to say in a must-read
article
:
...the affidavit itself is chock full of legal and technical errors, compounded by assertions-as-facts that seem to have little basis in reality. This is immensely troubling, especially given that the specific legal issues here are hardly settled law, and Homeland Security seems to be acting as if these cases are no brainers, allowing them to flat out seize domains, even when those websites have been declared perfectly legal in their home countries.

The biggest problem is that Homeland Security seems to suggest -- without a hint of doubt -- that merely linking to infringing content is criminal copyright infringement. That is a huge stretch. The affidavit appears to make it clear that it believes that these sites are guilty of direct criminal copyright infringement, rather than any sort of contributory copyright infringement. As we've discussed in the past, the courts have tended to say that embedding and linking can be contributory infringement, but not direct infringement. Homeland Security and ICE may be in for a bit of legal trouble trying to prove that embedding is direct infringement.
Until these unprecedented seizures, online copyright infringement was dealt with by simply asking infringing websites to remove the material and replace it with a link to the source. Previous cases have normally been battled out in civil court. Alternative news giant,
Matt Drudge
, is currently fighting a seemingly ridiculous civil lawsuit over linking to news stories.