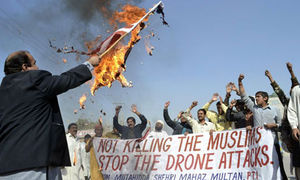 Ten more people have been killed by a US drone strike against suspected militants in Pakistan, with the aircraft firing its missiles into a mourning gathering for one of two fighters killed in a similar attack the previous day.
Two Pakistani intelligence officials say four missiles were fired at the village of Mana Raghzai in South Waziristan near the border with Afghanistan on Sunday morning.
At the time of the attack, suspected militants were gathered to offer condolences to the brother of a militant commander killed during
another American unmanned drone attack on Saturday
. The brother was one of those who died in the Sunday morning attack. The Pakistani officials said two of the dead were foreigners and the rest were Pakistani.