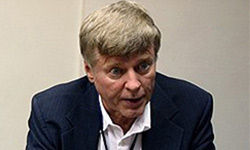 Merlin Miller, the US presidential candidate for the American Third Position Party, underlined that scrutinizing the situation of the Iranian society reveals that the western sanctions have failed to leave an impact on the country.
"I expected to witness the painful effects of sanctions but I was taken aback when I didn't witness such a thing," Miller told FNA in Tehran on Wednesday, adding, "I see no harms of sanctions in Iran."
He also underlined the Iranian people's indifference to the western embargos, and said, "Before I came to Iran, I expected to see hostility from the Iranian people due to the sanctions imposed by my country on the Iranian nation but now that I have come to Iran, my perception has changed."
"
Iran is a country with very kind, hospitable and peace-loving people
," Miller said.