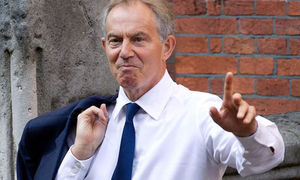 Desmond Tutu has helped us see the true nature of what the former prime minister did to Iraq and increased pressure for a prosecution
For years it seems impregnable, then suddenly the citadel collapses. An ideology, a fact, a regime appears fixed, unshakeable, almost geological. Then an inch of mortar falls, and the stonework begins to slide. Something of this kind happened over the weekend.
When Desmond Tutu
wrote that Tony Blair should be treading the path to The Hague
, he de-normalised what Blair has done. Tutu broke the protocol of power - the implicit accord between those who flit from one grand meeting to another - and named his crime. I expect that Blair will never recover from it.
The offence is known by two names in international law: the
crime of aggression
and a
crime against peace
. It is defined by the
Nuremberg principles
as the "planning, preparation, initiation or waging of a war of aggression". This means a war fought for a purpose other than self-defence: in other words outwith articles 33 and 51 of the UN Charter.