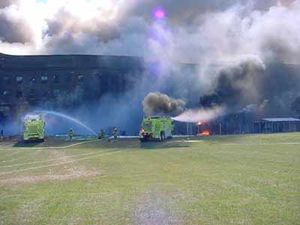 The evidence is in, the analyses have been made, and conclusions have been drawn by scientists, engineers and other experts: the so-called terror attacks of September 11, 2001 were faked. There is, moreover, independent evidence from multiple and credible sources that Al Qaeda is the creation of western intelligence agencies.
If you have any questions concerning these assertions, visit
http://www.physics911.net
The Scientific Panel Investigating Nine-Eleven has formed around this website. The Panel consists of over thirty experts in the fields of science, engineering, architecture, intelligence, the military, medicine, Islamic studies and other disciplines. The members are willing to stand up and be counted, even the ones with the highest public profiles. You will find them listed on this page:
http://physics911.net/spine.htm
Of course, the Physics 911 website is hardly alone in cyberspace. There are now literally hundreds of skeptical websites on the internet (with only a handful of dissenting sites defending the official story). There are other working groups with websites, as well, not to mention thousands of people doing their own inquiries into 911, and millions of people skeptical of the official story (including 48% of New Yorkers, according to a Zogby poll taken in 2005).