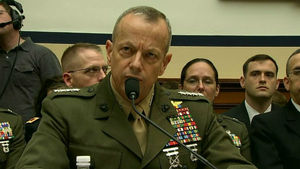 Gen. David Petraeus is the latest in a long line of powerful men in Washington whose career has been marred by an affair; Clinton and Lewinsky, Schwarzenegger and his love child - or for that matter, Edwards and his love child, Spitzer and the call girl.
The FBI alleged Gen. John Allen had "inappropriate communications" with Jill Kelley, the woman who reportedly received threatening emails from Paula Broadwell, according to the Associated Press.
Allen is a four-star general and the commander of the International Security Assistance Force in Afghanistan.
Broadwell, Petraeus' biographer, was identified as the woman who Petraeus had an affair with and the cause of his resignation.
An official told the AP that 20,000 to 30,000 pages of emails and other communications between Allen and Kelley since 2010 are under review.
The official added the emails are not believed to be sexual in nature, and Allen has denied any wrongdoing.