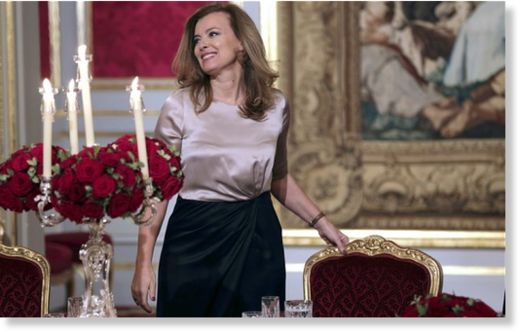 President François Hollande's 47-year old partner was slammed for eschewing her Left-wing principles in favour of unabashed champagne Socialism despite the threat of "thousands of job losses in the coming weeks" in companies ranging from Renault to Air France.
VSD
, the weekly magazine, trained its ire on the 47-year-old divorcee's decision to attend the haute couture shows of Paris fashion week.
It described photos of the first lady beaming alongside France's richest man Bernard Arnault at the Dior catwalk show as a "political fault".
"While thousands of French are fighting to avoid redundancy ... (she) attended the fashion shows," it wrote.
"Valérie Trierweiler, who often claims to be 'Socialist to her soul' ... ultimately prefers supporting the one industry that has no particular need of her help - the luxury fashion world.