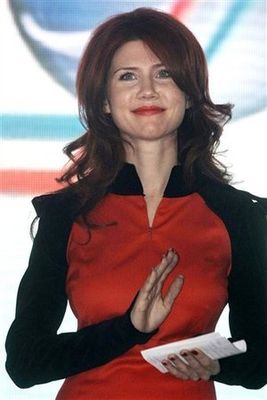 Russian spy Anna Chapman is enticing viewers to turn on her new Russian television show by promising to reveal "all the secrets."
But that won't be about her years of undercover work in the United States -- these secrets are about the mysteries of the world.
The director of documentary programs at the private REN-TV network says Chapman's Friday night debut program will focus on stigmata and other skin marks. A seductive tagline for the show cites Chapman as saying "I will uncover all the secrets, if you have the courage."
There are no plans for any show on espionage
, Mikhail Tukmachyov was quoted as saying in Friday's Komsomolskaya Pravda newspaper.
Tukmachyov told online journal www.er-portal.ru that Chapman will also investigative the reported spontaneous combustion of a 4-year-old child in a town near Moscow.
The 28-year-old Chapman was one of 10 Russian agents exposed in the U.S. and deported last summer in the biggest spy swap since the Cold War. She has not publicly discussed her role as a spy, and Tukmachyov told the newspaper the subject was taboo during filming.