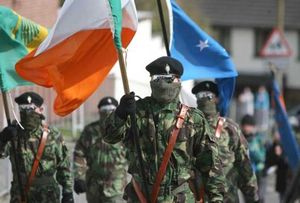 Intelligence officials say dissidents are capable of mounting mainland attack, as fears grow of 'Easter offensive' in Ulster
Dissident republicans have developed the capability to mount an attack on the British mainland, according to the latest security assessment. Senior counter-terrorism sources confirmed the threat from dissidents attacking the mainland "now goes beyond an aspiration" and that they now possess the means to mount an attack across the Irish Sea.
Amid rising tension in the province and fears of an "Easter offensive" by dissident groups, police in Northern Ireland also warned that anti-ceasefire republicans were plotting to kill more police officers.
The increased threat from republican dissidents is certain to heighten security concerns during the build-up to the royal wedding on Friday, although there is no intelligence suggesting a specific plot related to the event.
On Friday another dissident grouping, styling itself "the IRA", issued a public statement claiming responsibility for the murder of PC Ronan Kerr in Omagh this month. The group, comprising former members of the Provisional IRA, vowed to embark on a bombing campaign. It is understood that the new group includes veteran paramilitaries who were involved in transporting and later detonating the bomb that exploded at London's Canary Wharf in 1996.